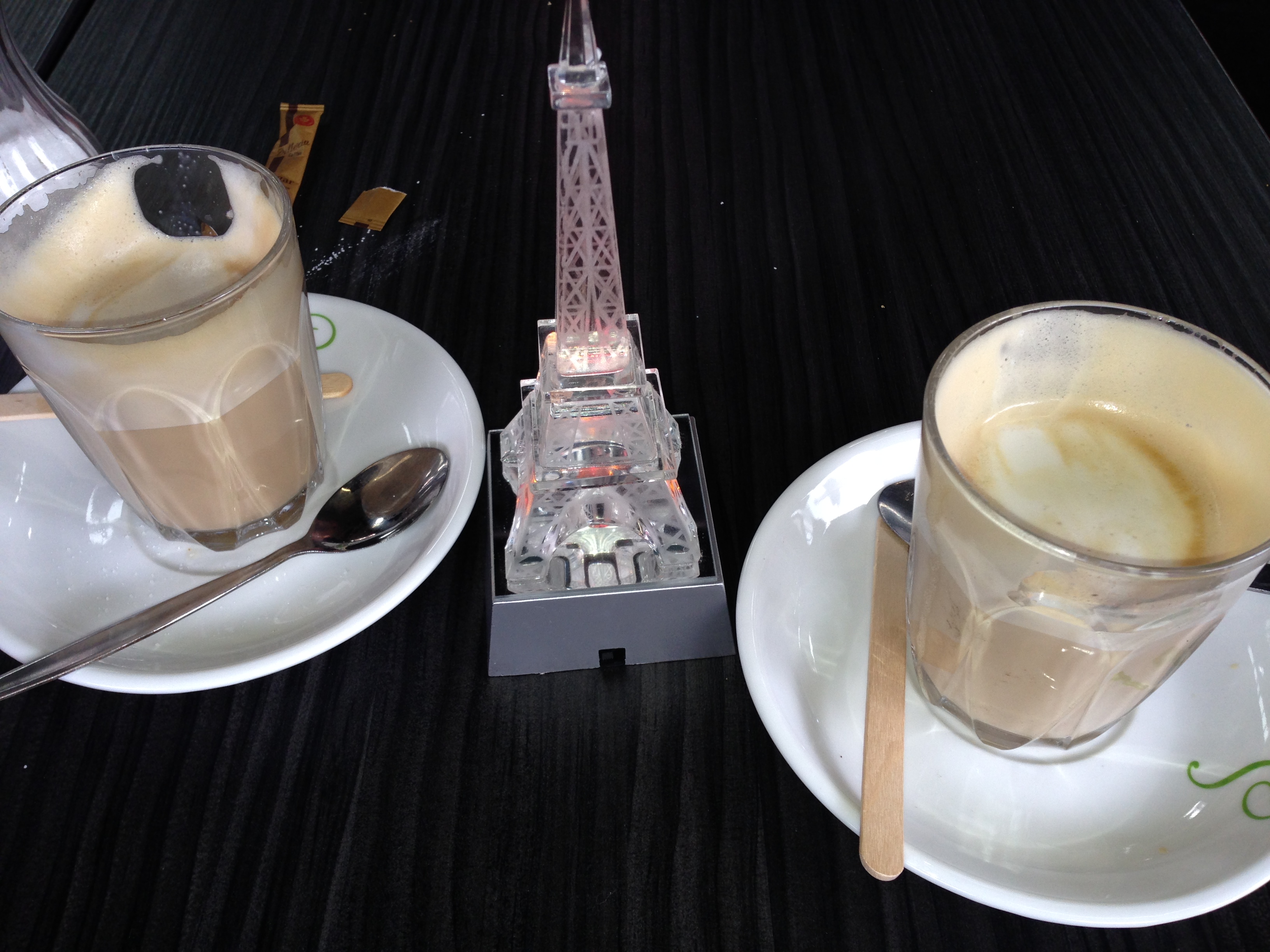 Flying in economy class as we know it is no easy task. The lack of space or leg room, the pitiful miniature bag of peanut snacks, the ho hum service, makes one question if traveling is really worth it. Of course the huge price difference between economy and first class is the reason more travelers don't, or can't, opt for the upgrade. But what if you could upgrade your experience and feel like you are in first class? With a total budget of $20.00, I plan on upgrading my economy trip into a First-class experience.
Because I travel a lot, I have been fortunate enough to have experienced the joy of business class and can appreciate the advantages. As you enter the inner sanctum of business or first class, you are greeted warmly and given the royal treatment by the flight attendants. You get a comfortable, cushy seat and a real fluffy pillow to sleep on (not the pancake-like object that passes as a pillow in economy). You are offered a drink right away in a real glass while the rest of the passengers board and longingly look at you as you settle in. Appetizing snacks are served to you in a decorative dish. You are handed your own personal gift bag with lotion, eye shades and tiny treasures as you slip into the cuddly slippers that are placed beneath your seat. And when it comes time for dinner, a lovely linen napkin is placed on your tablet so you can feel like you are in a restaurant. Ahh bliss!! But the bliss usually comes with at least THOUSAND of dollars' difference in fare. Is it really worth it? I always figure that the difference saved can buy me another round trip or allow me to bring someone along the next adventure!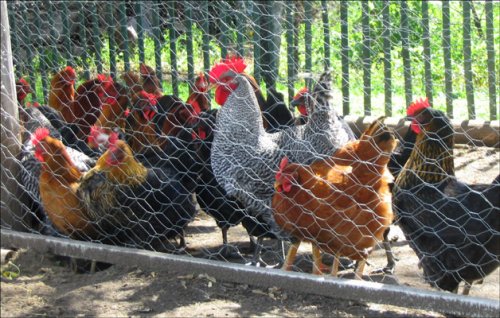 But let's not abandon the idea of a better way to travel. If you can't get a free upgrade, take things into your own hands, make your own upgrade and change the chicken coop feeling you usually experience during  your flight!
On a recent transatlantic flight to Paris, I decided to run my own upgrade experiment to see if it made a difference. After a quick visit to the store and a few items from home, I am ready to upgrade my economy class flight to a First class experience. Budget set: $20.00.
As I settle into my seat, I take out my own goody bag, with travel sized hand lotion and eye shades.  I ease into my own soft slippers. Somehow this is the first step that passengers in First Class take (after the free champagne of course), so I follow the course.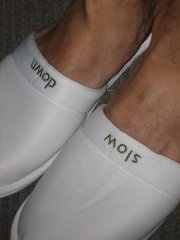 The flight attendant comes around with the usual peanut snack pack but I turn  down her offerings because my upgrade experience has already started. I take from my bag a lovely linen napkin I brought from home and place it on my tablet. The lovely lace fringed bowl, from the dollar store, is filled with my own imported mixed nuts and chocolates ($2.99 at the grocery store). I ask for a glass of wine and pour it back into my own real glass from home (yes, so far, real glasses are still allowed on board).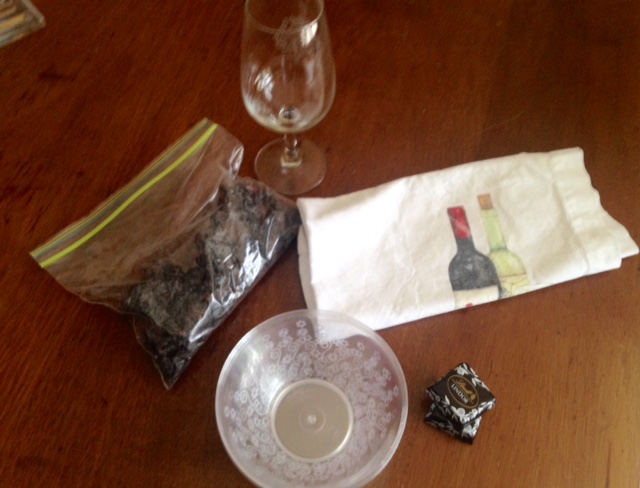 So after I set up my snack and drink tray, this is the difference in my experience and what a difference it makes!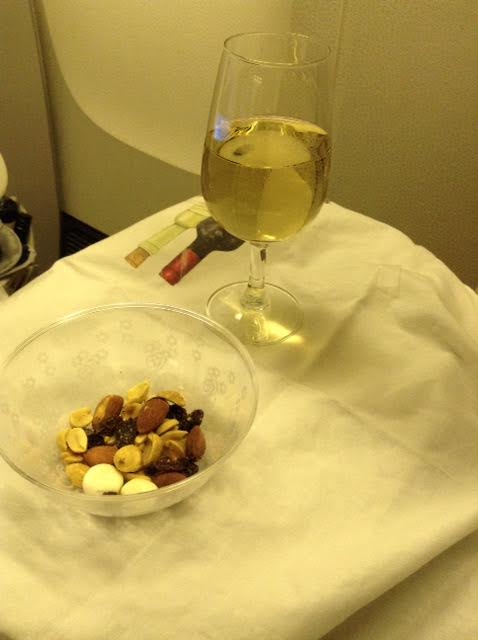 As the usual "chicken or pasta" selection comes around, I get rid of the plastic sealed fork and napkin, I have my own cutlery. You cannot bring metal utensils on board but the Dollar tree store carries a lovely selection of party supplies and I have silver colored sturdy plastic cutlery that looks real. I arrange the food from the little boxed containers on my fancy party plate and I must admit that it tastes good, very good indeed. Visual display is so important!  I am also enjoying the surprised look of the flight attendant and the eager looks from fellow passengers. One lady across the aisle cannot figure out why she did not get the royal treatment, I explain the experiment and she is impressed. She vows to do the same on her next trip. My boring meal, once re-plated,  becomes a gourmet experience in the sky! Here are the before and after photos:
Boring offerings in cardboard boxes: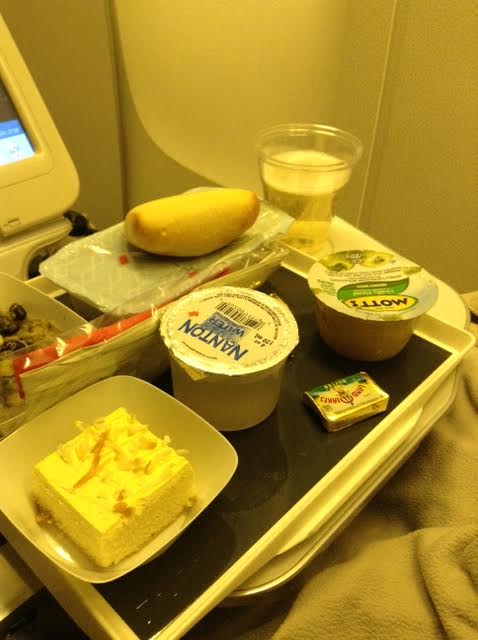 Exceptional!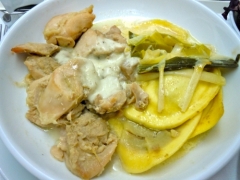 The meal is finished, all is taken away except for the glass and napkin that are quickly rolled up and placed away in my carry on. I take out my foam memory pillow covered with a satin pillowcase that I can wash after the trip, wrap myself with my own soft large scarf/cover that will be used during my week-long trip, and fall asleep feeling like I have had an upgraded experience. Grand total spent for all items on the upgrade: less than $20.00.
I decide that the experiment was a success as well as a lot of fun. It's all about making your own comfort zone which in turn will make your trip a First class experience. Just another way to make a long trip more comfortable and enjoyable. Was it the same as First class? Of course not. Was it an upgrade? Absolutely! Now I am planning my next trip and already thinking of what upgrade items I will bring. I welcome all suggestions!
$20 upgraded my economy class flight to a better, if not First Class, experience! Now it's your turn. Cheers!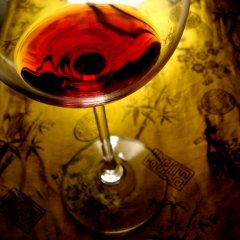 By Marie Kaposchyn, www.simplytravelabroad.com